TRUSTED COMMERCIAL ROOFING COMPANY IN KANSAS CITY, MO
GM Systems provides the best in Kansas City MO Commercial Roofing Services and offers free on-site consultations and inspections. Our tried and true procedures, committed professionals, and unmatched warranties guarantee first-rate results and complete peace of mind.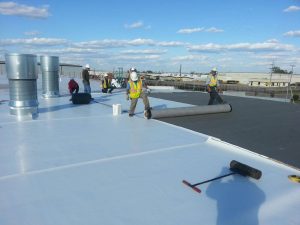 Our goal is to offer durable, unique commercial roofing solutions that are affordable and will last for many years. Your leaky roof will be entirely sealed in no time with our ground-breaking commercial roof repair method, saving you the time, money, and bother of having to remove the old roof. A thorough 20-year warranty backs each whole-roof sealant system, and our commercial roofing company in Kansas City, Missouri is registered, bonded, and insured.
WHY CHOOSE GM SYSTEMS INC. FOR YOUR KANSAS CITY, MO COMMERCIAL ROOFING?
Quality is the only way to go regarding your commercial roofing project. So, our Kansas City, MO roofers, who have worked on roofs for years and years, are sure to give you the best services. As the best Kansas City MO roofing company, we focus on all types of roofing, such as flat rubber roofing and slate. You already know how important it is to have a roof that can shield and protect you. If you suspect that your roof might be due for a repair, renovation, or even a replacement, our roofing company near you is your go-to choice. Our Kansas City, Missouri roofers provide full roofing services throughout the city.
TOP-NOTCH QUALIFIED KANSAS CITY, MO COMMERCIAL ROOFERS AT YOUR SERVICE!
Our commercial roofing services in Kansas City, Missouri are second to no other. When it comes to high-quality roofing services, we are your first choice. As one of the best commercial roofing Companies in Kansas City Missouri, we ensure that all our specialists and technicians know how to fix and replace roofs and provide excellent customer service.
COMPLETE SATISFACTION WITH GUARANTEED RESULTS FROM KANSAS CITY, MO COMMERCIAL ROOFERS
Delivering the very best solutions for your commercial roof! Whether you're building a new home or fixing up an old one, our reliable Kansas City, Missouri commercial roofers are there for you every step of the way to help you choose the best commercial roofing materials and tell you which ones are best for your budget. No matter what kind of roof you want— rubber flat roofs or something else—we can get it to you on time and within budget. Every project that GM Roofing works on is done quickly and well.
Some of the major Kansas City MO commercial roofing services we provide include, but are not limited to:
Would you like to try us? Call us immediately to get a free estimate and discuss your commercial roofing needs.