COMMERCIAL ROOFING COMPANY IN KANSAS CITY, MO
GM Systems provides the best in Kansas City MO Commercial Roofing Services as well as offers free on-site consultations and inspections, our tried and true procedures, committed professionals, and unmatched warranties guarantee you first-rate results and of course, complete peace of mind.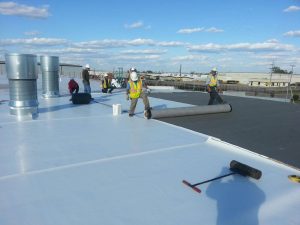 Our goal is to offer durable, unique commercial roofing solutions that are affordable and will last for many years. Your leaky roof will be entirely sealed in no time with our ground-breaking commercial roof repair method, saving you the time, money, and bother of having to remove the old roof. A thorough 20-year warranty backs each whole-roof sealant system, and our commercial roofing company in Kansas City, Missouri is registered, bonded, and insured.
WHY CHOOSE GM SYSTEMS INC. FOR YOUR KANSAS CITY, MO COMMERCIAL ROOFING?
We believe quality is the only way to go regarding your commercial roofing project. So, our Kansas City, MO roofers, who have worked on roofs for years and years, are sure to give you the best services. As the best Kansas City MO roofing company, we focus on all types of roofing, such as flat rubber roofing, and slate. You already know how important it is to have a roof that can shield and protect you. If you suspect that your roof might be due for a repair, renovation or even a replacement, our roofing company near you is your go-to choice. Our roofers in Kansas City, Missouri provide full roofing services throughout the city.
You can count on us to install, replace, and fix all kinds of roofs in a way that is done right. Commercial Roof installation should never be done by people who don't have licenses. A single mistake or oversight can cause expensive and often irreparable damage or require more work to fix. If the job is done right and good materials are used, a professionally installed roof can last as long as you own the house. When you hire our roofers near you, you can count on our roofing experts to make sure that all parts of the roof are installed correctly and professionally. This will protect your home from bad weather and wear and tear from the outside, ensuring that everyone inside is safe and secure.
TOP-NOTCH QUALIFIED KANSAS CITY, MO COMMERCIAL ROOFERS AT YOUR SERVICE!
Our commercial roofing services in Kansas City, Missouri are second to no other. When it comes to high-quality roofing services, we are your first choice. As one of the best commercial roofing Companies in Kansas City Missouri, we make sure that all of our specialists and technicians know how to fix and replace roofs and provide excellent customer service.
As the Best Commercial Roofing Company in Kansas City, Missouri we work hard every day to meet the installation needs of Kansas City residents. Using advanced roofing techniques and tools, our team of expert commercial roofers can quickly and easily figure out what's wrong with your roof and give you a fair price for a repair or a new roof. Our Kansas City, MO commercial roofers also gives you good, useful advice and tips for the future that will help you keep your home's roof in great shape after we leave. 
COMPLETE SATISFACTION WITH GUARANTEED RESULTS FROM KANSAS CITY, MO COMMERCIAL ROOFERS
Delivering the very best solutions for your commercial roof! Whether you're building a new home or fixing up an old one, our reliable Kansas City, Missouri commercial roofers are there for you every step of the way to help you choose the best commercial roofing materials and tell you which ones are best for your budget. No matter what kind of roof you want— rubber flat roofs, or something else—we can get it to you on time and on budget. Every project that GM Roofing works on is done quickly and well.
Our skilled roofers give accurate advice and estimates, and we guarantee the best prices. Call us right now for a free quote and to start talking about your commercial roofing needs.
Some of the major commercial roofing services we provide include, but are not limited to:
Extend the Lifespan of Your Roofing System and Keep Your Commercial Structure Safe with a Warranty
To avoid unwanted and expensive repairs before it's too late, extend the lifespan of your roofing system, secure your commercial roof with a warranty, reduce life cycle expenses, your structure and its contents safe, and delay expensive roof replacements.
High-Quality Commercial Roofing Materials in Kansas City, MO
Our commercial roofing services in Kansas City are designed to surpass your expectations and build a solid foundation for your company by utilizing only the best materials on the market.
Get a Speedy Fix for Your Leaky Roof with Our Commercial Roofing Contractors in Kansas City, Missouri
All home and business owners who need a speedy fix for a leaky roof or want to get ready for the rainy season and avoid any damage should contact our commercial roofing contractors in Kansas City Missouri.
Need a Commercial Roof Replacement in Kansas City, Missouri? Call Us for a Free Estimate and Consultation
In terms of commercial roof replacement, we provide both partial and complete roof replacement in Kansas City, Missouri. Would you like to try us? Call us right away to get a free estimate and to discuss your commercial roofing needs.  +