Kansas City, MO Commercial Storm Roof Damage Repair
.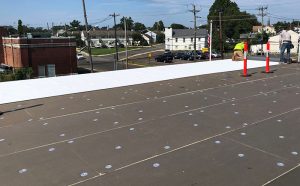 While the interior of your commercial building is normally safe from a storm's direct impact, you cannot do much to shield the outside. Storms can bring hail, rain, and wind that damage the exterior. These elements can inflict immediate and long-term damage to your commercial property's roof.  GM Systems is available to provide quick,  low-cost, and effective Kansas City, MO commercial storm roof damage repair
When your commercial roof endures a major storm, it is crucial to schedule an inspection immediately. By recognizing the issues early, we can initiate the commercial roof repair procedure immediately and prevent future damage. If you need professionals to address your storm damage roof repair in Kansas City, Missouri, you can rest assured that we will deliver exceptional results. Contact us today.
Whether your business structure's roof is composed of a membrane, hail, and wind can cause damage. Obtaining an inspection is the safest method to avoid costly repairs, such as leaks, because it is not always simple to spot the damage yourself. With their trained and seasoned eyes, our GM Systems contractors are able to notice minor problems and fix them before they worsen. We are fully licensed and insured, and we are dedicated to providing premium customer service.

Roofing Storm Damage in Kansas City, MO
From emergency roof repairs to post-storm roof assessments and roofing services, GM Systems can help your roof survive the stormy season. Call us right away.
When it comes to providing restoration services after a storm, our skilled roofers have got you covered. Call us to get a free quote today.
Kansas City, MO Commercial Roofing Storm Damage
Unfortunately, a commercial building is susceptible to wind and storm damage just like residential buildings. It doesn't matter whether you have a typical asphalt roof or a flat commercial roof, severe weather events like storms and high winds are not partial when it comes to storm-related damage. And if your current roof already has existing issues, storms can make worsen those problems and also lead to interior damage.
GM Systems has trained and certified technicians who are always available and ready to repair your commercial roof damaged by winds or storms. Our extensive experience in commercial building roof restoration makes us able to provide fast, skilled, and professional assistance to our customers in Kansas City, MO should there be any loss. 
We can professionally inspect your Kansas City commercial property and inform you about the things that would need to be repaired after a storm.
Signs of Commercial Storm Damage in Kansas City
Wind.
Even if your Kansas City roof is designed to withstand strong winds, harsh weather can loosen the roof's perimeter, putting the integrity of your roof at risk and necessitating costly repairs.
Hail
Roofing can be quickly damaged by even a few small hailstones. Even though flat roofing systems and metal are less likely to sustain damage from hail, it's still a good idea to have a professional roofer in Kansas City, MO check your roof after a hailstorm. 
Rain
Rain can cause leaks and interior moisture or pooling water if your commercial roofing system has suffered structural damage.
Gutters
Having water pool around the base of your building or spilling dangerously onto the sidewalks might be disastrous if high winds and debris messed up your gutter system.
Dealing with Commercial Storm Damage Repair With Your Insurance
Damage to your commercial property during a storm can cause you to worry about potential revenue loss and possibilities you could otherwise have taken advantage of. In addition, you may be concerned about whether or not your commercial insurance company will contribute to the price of repairing storm damage. Fortunately, GM System's team is aware of how frustrating it may be to work with insurers, when it comes to storm-related roof damage in Kansas City, MO.
It is our wish to make the repair process as hitch-free as possible so your business can resume. We'll figure out what needs fixing or replacing and keep track of that information. After that, we'll coordinate with the insurance adjuster to ensure that your policy will help cover the damages. We can help you minimize the impact on your business by providing temporary solutions while your claim is being reviewed.
Contact an Expert Today for your Commercial Roofing Storm Damage in Kansas City, MO
GM Systems will work with you to restore your commercial roof as timely as possible, without compromising the quality of our services. Get a complimentary quote for commercial storm damage repairs. Call us today to let us know how we can assist you.