Fayetteville, AR Commercial Roof Repairs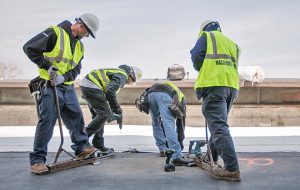 Your roof is vulnerable to year-round hard weather conditions, resulting in frequent property damage and a shortened lifespan. If severe weather storms, blistering heat, and frigid blasts have damaged your roof, Contact GM Systems Inc., a Fayetteville, AR Commercial Roof Repair company as soon as possible and request a free inspection!
As a property owner in Fayetteville City, commercial roof maintenance is vital for keeping your home or business in good condition. It is essential to repair a leaking roof as soon as possible, as it can cause extensive damage. Unfortunately, many property owners wait until it is too late to intervene in this case.
If you are seeking commercial roof repairs near Fayetteville, AR, call us immediately if you suspect a leaking roof. Our team of expert roofers can assist you with any roofing issue, including leaks, repairs, and replacement. We are committed to providing our customers with the highest quality roofing services, so please contact us immediately to book a free consultation. We're here to assist you in maintaining your property!
Types Of Commercial Roofing We Repair
GM Systems is a commercial roof repairs company near Fayetteville, Arkansas that provides repair and replacement services for all property types. We concentrate on the following:
Copper roofs
Faux roofs
Flat roofs
Metal roofs
Slate roofs
We can provide a commercial roof over your head if you need one. We offer a broad range of commercial roofing and improvement services all year round.  If you are uncertain about the sort of roof you have, our roofing contractors can assist you in identifying it. In addition, we offer free roof inspections and estimates, so don't delay in contacting us to acquire yours!
Fayetteville, AR Commercial
Roof Maintenance
Your roof will start to deteriorate as soon as it is installed. This is because the life expectancy of your roof can be shortened by factors such as negligence, physical damage, hail storms, etc.
GM Systems is a roofing company that offers roofing maintenance in Fayetteville, Arkansas, and we are very satisfied with the new roofs that we construct as well as the maintenance that we provide for our client's properties.  Are you interested in getting a roofing tune-up in Fayetteville? Schedule a meeting with our roofing contractors today.