Fayetteville, AR Commercial Roof Replacements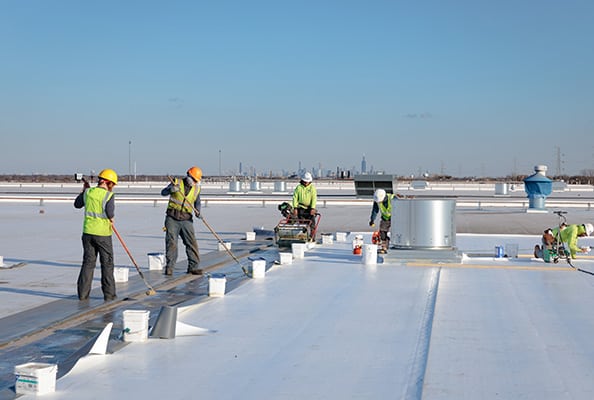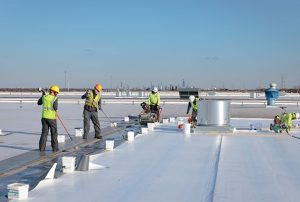 When we repair the roof on your commercial property or workplace, we always utilize materials of the greatest quality to ensure that the manufacturer's warranty remains in effect. Every commercial roof that we install is subjected to a thorough evaluation by industry professionals to ensure that it complies with the standards for buildings in Fayetteville, Arkansas.
Your new commercial roofing system will be installed by roof professionals who have the necessary training, qualifications, and expertise. This will ensure that you are at ease and comfortable throughout the entire process. In addition, GM Systems provides the industry's most comprehensive guarantees for its quality craftsmanship.  We take our commitment to workmanship extremely seriously and will go above and beyond to provide you with long-lasting results that meet all of your requirements in order to ensure your satisfaction.
Free commercial roof inspections are one of the many services that GM Systems give to storm-damaged property owners. Aside from that, we provide cost estimates for free when replacing roofs. We are also capable of either repairing your roof or completely replacing it if needed.  
We are very committed to our customers and take into account their preferred commercial roofing material. 
GM Systems is the Fayetteville, AR commercial roofing replacement contractor that can assist you, regardless of whether this is a project that you had planned or the result of a recent devastating storm. Contact us today for a free quote!
Fayetteville, AR Commercial Roof Installations
GM System is the commercial roofing installation contractor that you can count on to provide you with professional roofing services. Whether you need residential roof repairs or large-scale commercial roof installation services in Fayetteville City, Arkansas, we are prepared to handle projects of any kind.
You may rest easy knowing that your newly installed commercial roof will hold up over the course of time and withstand the effects of severe weather.
As a result of the many years, we've spent in Fayetteville assisting in the construction of better commercial roofs, we have a wealth of information regarding the following roofing services:
Flat roofs
Metal roofs
Insulation for the roof
Roof vents
Replacement of the Roof
Since we began our business more than twenty years ago, we have been helping homeowners enhance the condition of their houses by installing high-quality commercial roofing systems. When you hire us for your next commercial roofing project, you can rest assured that you will receive competent construction and high-quality materials.
The craftsmanship of the highest caliber, long-lasting materials, and exceptional attention to customer needs are the pillars of GM Systems' business model. As a result, our roofing company is able to offer excellent services and security solutions at prices that are within reach. Our Fayetteville, AR Commercial roofers have the experience and abilities necessary to complete the task to your satisfaction within the prescribed time frame, regardless of whether your roof requires repair, maintenance, or replacement.
Are you ready to have your commercial roof installed? Give us a call!
Fayetteville, AR Commercial Re-roofs

If you are looking for a company that provides commercial re-roofing services in Fayetteville Arkansas. GM Systems is your best option. More than twenty years of expertise working on a variety of residential properties back up the quality of the professional roofing services that we provide. As the roofing contractor of choice in Fayetteville, Arkansas, our customers are aware that they can come to us for any and all types of roofing services, ranging from inspections to minor repairs, major repairs, and complete re-roofing services Do you have a new commercial roofing project?  Give us a call right now for a totally free quote!