AFFORDABLE & CONVENIENT COMMERCIAL ROOF COATINGS IN WICHITA, KS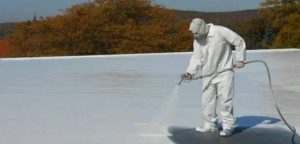 Roofing coatings are a less disruptive and costly alternative to a complete roof replacement. Single-ply, metal, modified bitumen, built-up, and polyurethane foam are just some of the roofing materials to which our coatings can be applied.
Compared to the expense and difficulty of a roof replacement, the Wichita KS commercial roof coatings we provide are of great value. Picture yourself getting your roof fixed with minimal downtime. Including metal roofs, this works for any low-slope or flat roof.
Experience Superior Climate Control and Leak Prevention With GM Systems Inc.'s Advanced Roof Coatings in Wichita, KS
By deflecting the sun's rays away from the roof, the temperature within the building can be kept at a tolerable level.

A cooler roof lessens the workload on the air conditioner, saving energy.

Allowing rain to fall is an important part of waterproofing. A fluid-applied membrane roof ensures that heavy rain and puddles of water stay outside, keeping your people and possessions dry inside.

A major advantage of older roofs is an enhanced aesthetic. You don't have to spend so much on replacing your roof when you may improve its look.

Applying a liquid coating to an existing commercial roof can extend its life, save energy costs, and prevent leaks without needing an entirely new roof.
With high-quality material, a labor warranty, and a trained roofing expert staff, GM Systems Inc. Custom Coatings will keep your commercial roof dry and safe from the elements all year long.
Experience Top-Notch Fluid Applied Commercial Roofing in Wichita, KS
To what extent do you hope to improve your roof's condition using a fluid-applied system? If you have a commercial roof in Wichita and are wondering if a spray-applied system might fit its demands and operations well, call GS Systems to schedule an inspection.
Given our twenty years of experience in the roofing industry, we can access our clients' roofs and deliver the precise solutions they need to protect not just their roofs and houses but also their buildings.
Get in touch with GM Systems Inc. immediately to get the roof painting process started. Let us look at your roof and recommend the best spray-on system.
Enhance Roof Longevity With High Solids Silicone Coatings in Wichita, KS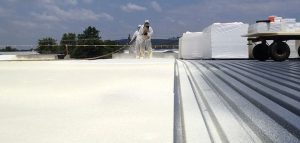 Silicone roof coatings with high solids content are a great choice for protecting and repairing roofs. They are made with a high concentration of silicone, which makes them highly effective at sealing and waterproofing roofs. These coatings are also resistant to extreme temperatures, UV radiation, and weathering, making them suitable for various climates and conditions.
In addition to their durability and performance, high solids silicone roof coatings are also environmentally friendly, as they do not contain any volatile organic compounds (VOCs) that can harm the air quality or contribute to smog. Overall, high solids silicone roof coatings are a reliable and sustainable solution for maintaining the integrity of roofs.
Our skilled roofers can begin working on your roof as soon as you'd like. Get in touch with us right now by giving us a call.