EXPERT WICHITA KS COMMERCIAL ROOFING STORM DAMAGE OF GM SYSTEMS INC.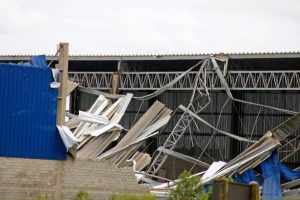 Your business's interior may be protected from the effects of a storm, but you can't do much to protect the building's outside. Hail, rain, and wind from storms can cause structural damage to the outside of a building. The roof of your commercial building is vulnerable to both short- and long-term harm from these factors. GM Systems Inc. is here to offer quick, low-priced, and efficient solutions to Wichita KS commercial roofing storm damage.
Having your commercial roof inspected right after a severe storm is essential. If we catch the problems early, we can immediately start the commercial roof repair process and remove any further damage. Wichita, Kansas residents who require expert assistance with roof repair due to storm damage may rest certain that we will provide that help to the highest possible standard. Please get in touch with us today.
Damage can occur to your commercial building's roof, whether made of a membrane. It is not always easy to see the damage oneself, therefore having a professional inspection is the safest strategy to avoid expensive repairs like leaks. Our GM Systems Inc. contractors have the experience and training to see potential issues before they become major headaches. We are committed to giving first-rate service to every one of our clients, and we carry the necessary licenses and insurance.
TRUST GM SYSTEMS INC. FOR EMERGENCY ROOF REPAIRS AND STORM DAMAGE RESTORATIONS IN WICHITA, KS
GM Systems Inc. can help your roof withstand the stormy season, from emergency roof repairs to post-storm evaluations and roofing services. Don't hesitate to call us.
The aftermath of a storm can severely affect your roof, but you have nothing to worry about; our expert roofers are well able to provide roof restoration services. Get your no-obligation estimate by calling now!
Wind and storm damage can be just as devastating to a commercial property as to a home. It doesn't matter whether you have a conventional asphalt roof or a flat commercial roof. Extreme weather events like storms and winds are not partial to storm-related damage. In addition, storms can exacerbate any problems with your roof and cause further interior damage.
GM Systems Inc. has skilled and qualified personnel who are constantly available and ready to repair your commercial roof damaged by winds or storms. Our customers in Wichita, KS  rely on us for prompt, skilled, and professional service because of our many years of experience restoring commercial building roofs.
THE ROOFING SERVICES WE OFFER IN WICHITA, KANSAS
Protect Your Property With GM Systems Inc.: 24/7 Emergency Roof Repair Services in Wichita, KS
You can have an emergency at any time. GM Systems Inc. is ready to help when that happens. We offer emergency roof repair services for businesses around the clock, so you are always safe. If you need emergency roof repair in Wichita, KS, you can always call Wichita, KS commercial emergency roofing services.
Commercial emergency roofing services give you quick fixes so you can keep using your building or living in your home while we work on a more permanent solution. Also, our Wichita emergency roofers are available 24 hours a day, so we can take your call and start building an emergency solution anytime.
GM SYSTEM INC.; YOUR NUMBER ONE EMERGENCY COMMERCIAL ROOFING SERVICE PROVIDER IN WICHITA, KS.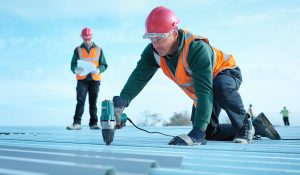 How quickly damage to a business building is fixed is a key factor in how well it can be fixed. Our roofing experts in Wichita know how important it is for your business to get back up and running as soon as possible. We can send an inspector to your commercial building as soon as possible if you need a professional roof inspection.
Our trained eyes will look at your business roof and suggest repairs based on our findings. Our roofers will find many problems that have been missed up until now. We have much experience working under pressure and can quickly figure out what's wrong with even the most complicated problems. You can count on GM Systems Inc. to rebuild the roof of your business with as little downtime as possible.
Contact GM Systems Inc. for help with our Wichita, KS commercial emergency roofing services. We are always ready to help you with any part of your roofing emergency.