Choosing the Right Commercial Roofing System in Wichita, KS: A Guide to Ensure Durability and Performance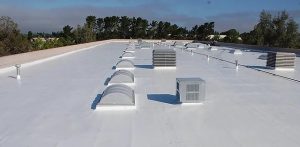 Leverage our deep knowledge in Wichita KS commercial roofing systems to discover the optimal solution for your property. At GM Systems Inc., we conduct an in-depth assessment of your roof's state, offering advice on repairs, overlays, or replacements. Request your complimentary quote on a commercial roof installation in Wichita, KS, today.
THE ROOFING SERVICES WE OFFER IN WICHITA, KANSAS
Trusted Choice For Metal Roofing Installations in Wichita, Kansas
In Wichita, Kansas, GM Systems Inc. can install a wide selection of metal roofing options to match your needs.
With its inexpensive initial investment and high durability, metal roofing is a great choice for any commercial structure. Regarding energy efficiency and durability, metal roofing materials perform magnificently for your business. In Wichita, Kansas, GM Systems Inc. can install a wide selection of metal roofing options to match your needs. We tailor our roof installations and other roofing services to your business's specific needs. Working together, we will install a metal roofing system on your commercial structure that will last for decades. A warranty will be provided for this work that promises 100% customer satisfaction.
GM Systems Inc.: Your Expert Choice For Flat Roofing Services in Wichita, KS
Need the services of a roofing company that specializes in flat roofs? Are you attempting to extend the life of your building as one of the most significant challenges you might face? You have made a substantial investment in the security of your Wichita, KS commercial facility by choosing a long-lasting and environmentally friendly roofing system. It's time to take action to protect that investment for the long haul. Contact us immediately to find out if you need EPDM roofing, PVC & TPO roofing, built-up roofing, modified bitumen roofing, or fluid-applied roofing.
Enhance Commercial Roofing Security With Modified Bitumen in Wichita, KS
Modified bitumen and reinforced roof components comprise this style, often known as "Mod-bit" roofing. It is installed as a two-ply structure on the roof for maximum security and stability. Modified bitumen roofing for commercial buildings is superior to other flat roof materials in ease of maintenance and tensile strength. This roofing style is highly recommended for any business structure that simultaneously hosts many people.